Get Your Bible Insights
Straight from the Source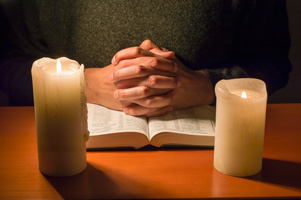 Are you ready to grow a deep connection to God through His word?
God wants to speak to you through His word and draw you closer to Him.
Before RBS I didn't really study anything, but occasionally I would attempt to read a devotional each day, a verse of the day, or a positive thought and that was about it on a good day.
Now, when I have studied with RBS, I feel closer to Jesus and with the questions I am able to think more on certain topics or characters which I didn't before. It has helped me grow closer to Jesus.
Suzie
Nampa, ID
Can Reflective Bible Study Help You?


New Believers
Starting anything new can be a little overwhelming, and Bible study is no exception.
Reflective Bible Study helps you grow in relationship with God by giving you a solid path to follow in His Word. It provides a simple open-ended method that allows God to speak into your life through the passages of scripture on various topics.


Experienced Studiers
Want to learn everything the Bible says on a specific topic, but don't have time to research it?
Reflective Bible Study comes to your rescue. Every study package we offer is 100% comprehensive, allowing you to see everything God has said on a subject, and we share it with you in an unbiased way, allowing the Holy Spirit to direct your thoughts and insights.


Busy Pastors
Sometimes, it can be tough coming up with sermons week after week after week, with no end in sight.
Let Reflective Bible Study help you combine your personal study with your first stage of sermon prep. Each lesson is filled with questions helping you unpack themes and insights that will make your sermons connect.
Reflective Bible Study = Better Than Free
(Click description for more info)
Other Free Studies
Reflective Bible Study
Zero Upfront Cost
Other studies give you their stuff for free, and it is easy and risk-free to see if it will work for you.
But Reflective Bible Study is better than free. What is offered here isn't just some study; it is a hand-crafted tool and framework designed to help you grow closer to God.
However, some people may still wonder if it is worth the investment.
That's why, for a limited time, we are offering FREE memberships that give you the first 10 lessons from one study package in our library — and you get to choose the study package.
Reflective Bible Study wants you to have a great relationship with God, and we don't want money stopping you from seeing whether this website and/or study framework is right for you.
We are 100% committed to helping you grow closer to God!




Supported by the Studiers
It takes money to run a website. If the studies are "free" to you, the money is coming from somewhere else. Sometimes the money comes from a publisher who wants to get you to purchase from them, and other times, the support comes from a denomination that wants you to believe what they do.
ReflectiveBibleStudy.com is different. Since we are supported by those who use us to study, we are 100% committed to helping you be successful learning everything the Bible says on a specific topic – and letting you decide what to believe about it.




Private Online Distraction-Free Site
Many other online study websites resort to running advertising to help cover their costs, but these advertisements are also a distraction, pulling your focus away from God's Word.
Not at ReflectiveBibleStudy.com. Here we promise an experience that is as free from distractions as possible.




Dependable
Since ReflectiveBibleStudy.com is supported by the studiers, it will be around for years to come. Many of the not-for-profit companies who have studies available are supported by a core group of donors, but if the money stops coming in, the studies may disappear.
Because Reflective Bible Study is supported by our studiers, our primary commitment is to help you have the best study possible, and not worrying about where the money will be coming from to pay the bills. Also, since we are supported by our studiers, we are available to answer any questions that you may have about your study experience.




Completely Open-Ended Study
Other studies may pick and choose what verses to include – based upon what the author thinks is relevant.
Reflective Bible Study doesn't do this. Every one of our study packages gives you everything the Bible says on the chosen topic, and each lesson includes more than enough verses surrounding the key topic/idea/event letting you see context as well. We then step out of the way and let you make up your own mind what to believe about what you just studied.




100% Focused on the Bible
Other studies might claim this, but when you begin to study with them, you realize that there is about as much, if not more, author opinion included as there are Bible texts.
Reflective Bible Study is the opposite. Aside from each section's instructions and a short set of questions in each lesson, you are looking 100% at the Bible. Aside from Bible-reading plans (which don't help you unpack what you are learning), most other studies cannot claim this level of focus.




Encouraging Emails Based on Your Study Progress
After downloading or getting those other studies, you are left to study on your own with no (or minimal) follow-up. (Unless you opted into their list.)
In contrast, Reflective Bible Study doesn't abandon you while you study. Periodically, we'll send you custom, personalized emails encouraging you as you reach milestones on your study journey. Don't worry, these emails are completely optional (if you want to minimize what hits your inbox), but we're willing to send them as one way to help you feel connected and encouraged while you travel through God's word.
Also, we can send you occasional reminders if you haven't studied in a while — kinda like an accountability partner would do. As before, these emails are also completely optional.




Online, Offline, and On-Paper Options
With many other studies, you have to use whatever format they choose to give you, whether it is a PDF, a membership login, or something else. You are restricted by what they wanted to provide.
Reflective Bible Study gives you options:
Online — using this very website.
Offline — Using Word Documents that give you spaces to write your answers into.
On-Paper — Using printable PDFs, which also have space to write your responses into.
With Reflective Bible Study, you control your study method.




Because each lesson asks me to share what that lesson's passage reveals about the character of Jesus/God, I have grown to see His loving character more fully in every part of the life of Jesus—even in the chronology sections of Matthew and Luke! Before RBS, I never gave the revelation of God's character a lot of thought; I just stayed with my surface reading of Scripture, without going below the surface to discovering more about the God who loves me so much that He sent Jesus to this world to win my heart back to Him. I frequently thank God for RBS as it has significantly deepened my devotional walk with Him.
AK
Calgary, AB
Does Reflective Bible Study Really Work?
Probably the best way to answer this question is to look at the numbers. So far, our amazing group of studiers have saved a total of 8,432 insights to-date.
That's a lot of people who now have stronger relationships with God!
Frequently Asked Questions: (click on a question to reveal its answer)
What happens at the end of my complimentary lessons?
After finishing your 10 complimentary lessons, you have the option of upgrading your membership to one of the paid levels to continue studying. If you choose not to upgrade, then no new lessons will be unlocked.
After completing the first 10 lessons from any of our study packages, we're sure you'll have a good idea on whether Reflective Bible Study is a right fit for you.
What does Reflective Bible Study Believe?
Reflective Bible Study follows these five beliefs:
God's greatest desire is for you to see a clear picture of His character. When you see Him clearly, you will find His love irresistible.

The Bible (scripture) is a road map for life. The Bible is God's voice in written form, personally speaking His love to you.

Jesus Christ is the One constant in an ever-changing universe. Jesus is our Creator, Sustainer, Savior, and Friend while being God's Son and God Himself.

God's vision for you is to live the best life possible, both now and throughout eternity! God loves you, and wants to give you the highest quality of life imaginable.

In God's presence is a place you can feel accepted, loved, and challenged to be better. God loves you, and wants to spend time with you personally, one-on-one, as two close friends.
Am I being timed? (Or do I have to complete all the lessons of a study package within a certain amount of time?)
Nope. Take as much time to study as you would like. Whether you complete a study package in 3 months or 3 years, we're not keeping track. We're just excited to know that you are growing closer to Jesus!
Note: If you have requested accountability emails, then if it has been a while since you completed a lesson, we'll send you a quick email reminding you to come back and study. These emails are completely optional, and can be enabled/disabled under your account settings.
Will Reflective Bible Study work for small groups?
Yes and no.
Reflective Bible Study has been designed to help individuals grow a personal relationship with God, but there is nothing stopping a group of individuals from getting together and talking about the insights they learned from their personal study.
Note: At this moment, no "group" specific studies are being developed, but if we get enough requests for something small-group focused, something may develop.
How come some questions are repeated from lesson to lesson?
Finding a balance between custom questions for each lesson/passage vs. having identical "generic" questions that are attached to each lesson is very subjective.
On one hand, as developers of this study, we have insights that we want to help you discover too, which could lean us into more customized questions focused on that goal -- but at the same time, this is not our study time, it is yours. There are already lots of studies that are aimed at helping you understand the author's viewpoint.
On the other hand, a set of universal, generic questions that are applied to every lesson could eventually become dull or boring to some people. In my own study with Reflective Bible Study, some of my most thought provoking insights have come from "dull" but challenging questions, but this might not be the case for you.
So for the studies found on this site, we have chosen to mix some customized-to-the-passage questions with some of my favorite "generic" questions to help you have the best possible study experience -- one where you meet God and hear His message for your life, without us as developers getting in the way.
Is there a money-back guarantee?
Absolutely!
If for whatever reason, you are not satisfied with your membership purchase, we have a 60-day, no questions asked, money-back guarantee. To request a refund, simply contact us, and let us know and we'll begin the refund process.
Also, you can start 100% for free today, with no credit card or payment required! Your membership will give you the first 10 lessons of your chosen package. After 10 lessons, we're sure you'll know whether Reflective Bible Study is the right fit for you.
Probably the thing I like the most about Reflective Bible Study is that it allows me to study at my own pace. If life pushes me to take a break, I know my lessons are always there, waiting for me when I get back.
While some study packages have a lot of lessons included in them, the way the site is set up helps me not feel overwhelmed. I really like how RBS has a library of studies because I know that there will always be something new for me to study at the end of each completed study package.
Cam
Nampa, ID
Reflective Bible Study is an honest and candid look at God's Word to understand it as it reads, helping me learn what God is saying to me. I appreciate that it encourages individual thought rather than teaching a current theory or doctrine.
There are many wonderful ways to approach God's Word, but we always need the Holy Spirit's guidance as we study and I like how each lesson incorporates honest prayer asking for this guidance.
Instead of picking one or two verses, each lesson draws one or two paragraphs surrounding the topic, allowing me to easily read the straight Word of God, in context, without the work of looking it all up.
The Bible stands like a rock of truth in the raging storms of time and changing philosophies. I want to anchor my life on this secure foundation and this is why I enjoy Reflective Bible Study so much.
Nancy
Lima, OH